Yes, You Can Bleach Your Curls Platinum & Keep Them Healthy — Here's How
It took the better part of a decade for me to finally put down the straighteners. Then, about 10 months to resurrect my dark-brown 3B curls. So when I debated going fully blonde earlier this year, my closest friends were convinced it would be my worst hair decision yet. But after years of admiring caramel-dipped looks from the likes of Solange, Zoë Kravitz, and Jasmine Sanders, I did my research and realised that blonde curls aren't just for celebs (although yes, it does cost a pretty penny!).
Previously, I would've cringed at the mere mention of "bleach" and "curls" in the same sentence, but through this process I've learned that curly hair can be bleached without totally killing it. According to Nicole Kahlani, the colourist who transformed my hair (which was, full disclosure: done free via Bleach London), this is one of the biggest curly hair myths. Stemming from the notion that bleach destroys your hair, those of us with healthy curl patterns are led to believe that bleach will absolutely, categorically ruin them.
"People think Afro hair or certain curl patterns can't be bleached — actually, it lifts easier than [other kinds of] hair," Kahlani says. "But it's because it lifts easier that there's more chance of damage." She explains the mistake many people make is actually over-bleaching, causing curls to break. As long as your colourist uses a lower-volume peroxide, bleaches slowly, and you *fully* commit to an aftercare routine, your curl pattern really can stay intact.
Whether you're thinking about getting in on the trend of the season or curious about what you can do with your hair, here's everything you need to consider.
"Don't do it yourself," Kahlani says. "Go to a salon that has a lot of clients with your hair type and [stylists] who can be really realistic about the outcome and how long it will take." Textured hair requires more patience and expertise to adapt treatments accordingly. Kahlani used Plex Bleach on me, which is similar to a bleach/Olaplex mix, built with extra protection to repair hair bonds to increase health and strength, and made specifically for fine or curly hair.
One way to make sure you're in the right hands is to book a free consultation with a stylist. They'll examine your hair texture, do a strand test, and ensure it's safe to bleach.
Just like you can't have a Drake album without multiple features, you can't bleach textured hair without health and hydration. Bleach is one of the most intense chemicals you can apply to your hair. To better understand what exactly happens during the bleaching process, I reached out to Jennifer McCowan, a Saskatoon, Sask.-based trichologist. "When you're bleaching the hair, you're chemically changing the bonds in the hair — essentially, what you're doing is you're blowing them up," says McCowan. "When the bleach goes in, it basically starts to just destroy the melanin, which is what colour is made of."
In that process, the protective layers of your hair are stripped, leaving strands exposed to damage and more prone to drying out. But according to McCowan, you can minimise that post-bleach damage. "The safety of your curl begins in the mixing of the colour," she says. "If the colour is not mixed properly, you're going to get an imbalanced pH level and that in itself will fry the cuticle outside of the hair." 
> >
According to Toronto-based stylist Ghergis Hagos, all of the above is why the initial condition of a client's hair is a major deciding factor for stylists carrying out consultations. "You have to make sure your hair is in good condition, especially when it comes to going from darker to blonde," Hagos says. If my hair had been damaged from previous box dyes or relaxers for example, dyeing it could have meant it could literally break off.
My hair was virgin hair, so the initial lifting took only one session. For hair that's been previously box-dyed, Kahlani recommends trimming as much of the dyed hair as possible. She also says to be open to the fact that you're going to have a much warmer blonde to begin with. Previously treated hair can take a few more tries to get it to your preferred blonde because your stylist will need to lift the layers of colour from your hair.
Take! Your! Time!
My first session was seven hours long. And seven weeks after that, it took another five-hour session to get it to an icy white (and bleach my roots). Using a lower volume peroxide and slowing down the process is what helps protect your hair, says Kahlani. And because of this long, intense process, she suggests committing to blonde for at least a year.
What happens if you have a bad bleach job, you ask? "You'll notice the broken bits coming in a couple weeks [afterwards] and you either destroy the curl or get breakage," Kahlani says. "And it's hard to come back from that without having a really awkward stage."
> >
Aftercare is essential
TLC is major here. After the stylist does their bit, it's up to you to take care of your hair in between appointments. "You want to continue to hydrate your hair," McCowan says. "Be a little heavier on the moisturizer post-colour to make sure your hair is absorbing it. There are lots of different products on the market for curly girls."
Always go sulfate-free and look for ingredients like shea butter, aloe vera, coconut and hydrating oils like argan, avocado and almond. Limit washing to once a week, up your deep conditions, and invest in accessories like fabric hair ties, satin bonnets, scarves, and/or pillow cases to protect your hair from breakage. "Don't over blowdry, don't over style, and don't overwash. You basically want to do half or a third the amount of things you could do while it was virgin," Kahlani says. 
Reference: Refin ery 29: Ebony-Renee Baker 
v 
Losing its sparkle: the dark side of glitter
These days, no Instagram post or fashion show is complete without a liberal sprinkling of glitter. But questions surround its environmental impact – and role in child slavery. Is it time to stop?
ast year was the best of times and the worst of times for glitter. New York magazine's fashion title, the Cut, declared: "In 2017, there's no such thing as too much twinkle." The managers of one London pub agreed, adding glitter to its Christmas dinner gravy and declaring it the "perfect way to spread festive cheer". Teen Vogue gave tips on how to be the "new extra-glittery you" for New Year's Eve, from transforming your hair with sparkly roots to "disco ball" eyelids. At London fashion week, designer Ashish Gupta sent one model down the catwalk in a top that read: "More glitter, less Twitter," a pointed jab at Donald Trump.
In the digital realm, a glitter tongue trend swept Instagram sparking concerns about people swallowing it, while artist Sara Shakeel went viral for Photoshop collages in which she embellished stretch marks with glitter. An app called Kirakira+, which makes Instagram posts look like the insides of snow globes, became a vital accessory for the fashion set, from makeup artist Pat McGrath to model Bella Hadid. It was glitter's year for letting its hair down. 
But it hasn't been all fun and 'grams. A woman in Swansea was nearly blinded by a Christmas card when a piece of glitter worked its way into her eyeball. There was a loud backlash to something called Passion Dust Intimacy Capsules, designed to fill one's vagina with "magicum", according to the company behind them. "Don't glitter-bomb your vagina," warned the gynaecologist Jen Gunter.
For some, glitter never had much going for it – comedian Demetri Martin summed it up perfectly a few years ago when he called glitter the "herpes of the craft world". Its lingering quality has enabled forensic scientists to use it as evidence and made it popular with activists such as LGBT campaigner Nick Espinosa, who in 2011 poured it over US politician Newt Gingrich with the words: "Feel the rainbow, Newt!"
Recently, however, glitter has caught most flak for being environmentally unfriendly. Concerns about plastic pollution in our seas led one group of nurseries in the south of England to prohibit the use of glitter by 2,500 children before Christmas, while others, such as the New Zealand-based social scientist Dr Trisia Farrelly, called for a ban on plastic glitter altogether.
With most glitter being made from etched aluminium bonded to polyethylene terephthalate (PET), it is a form of microplastic, which can find its way into our oceans and the creatures that call them home. While "there is currently no evidence specifically on glitter being bad for the environment", according to Alice Horton, a research associate at the UK's Centre for Ecology and Hydrology, "it is likely that studies on glitter would show similar results to those on other microplastics".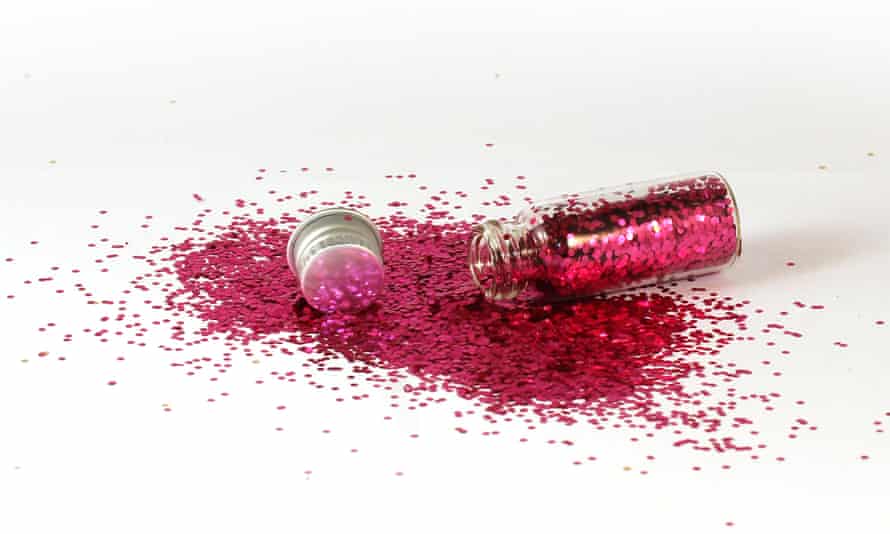 Bio-glitter … 'just as sparkly' Photograph: Eco Glitter Fun
Earlier this month, the UK outlawed microbeads in makeup and personal care products, including the type of glitter used in some rinse-off cosmetics. A similar ban in the US in 2015 applied only to exfoliants. But surely even the UK ban leaves a lot of sparkle that could find its way into the sea (and our scampi)? For Dr Richard Thompson, a marine biologist at the University of Plymouth who led a research project in 2016 that found microplastic in a third of UK-caught fish, when it comes to glitter, there's cause for "concern rather than alarm".
While it is important to reduce any emissions of plastic into our environment, he says, "it's about getting these things in perspective". Glitter probably represents only a tiny proportion of the plastic waste entering our environment compared with, say, the amount of food and drink packaging left on beaches.
"If it's being used in a rinse-off product, then you think: why does it need to be there?" Thompson says. "If it's being glued on to a greeting card, I'm less worried about it." That your glittery Christmas card is causing no immediate risk to mackerel won't make the task of hoovering its flecks out of your carpet more fun, but it is something.
Noemi Lamanna uses glitter every day and she is worried about it. "Finding out that glitter, something that we absolutely love and own tons of, was plastic, was heartbreaking," she recalls. She became a glitter activist, telling anyone who would listen about its dirty little secret. Then, about a year ago, she and her best friend set up a company called Eco Glitter Fun. "We started trading in April," she says, "and the interest in our glitter has grown exponentially."
Stephen Cotton is the chemical engineer who helped create Bio-glitter, the more environmentally friendly alternative sold by Lamanna. Does he like the stuff? "It's OK," he says. His product, he says, replaces PET with cellulose that comes from tree or plant matter, mainly eucalyptus. It is, he promises, just as sparkly as normal glitter.
Mica is another material that has been touted as an alternative to plastic-based glitter, at least in some applications. A naturally occurring mineral, its tiny particles give a pearlescent shimmer next to glitter's more brazen shine, making it ideal for use in makeup. But the road to sparkle never did run smooth – the main source of the world's mica is from illegal mines in India, in which at least 20,000 children are believed to be working. Enter synthetic mica, also known as synthetic fluorophlogopite, which the high street cosmetics chain Lush started using after realising the issues with natural mica. As of 1 January, all its products have been natural-mica-free.
> >
But lab-grown mica is not a solution that Jakub Sobik, a spokesman for Anti-Slavery International, hopes all the corporate giants take up. "Not all mica companies are involved in exploiting children. People's livelihoods depend on it as well. So you would like to see conditions improve rather than the whole industry shut down."
Aysel Sabahoglu, a child rights officer at the relief agency Terre des Hommes (TDH), can point to a few improvements in the natural mica industry since a series of media reports were published on the situation – from the Responsible Mica Initiative, signed by about 40 companies from L'Oréal to Chanel, to the "child-friendly villages" on which TDH is working. The idea is that children will "know their rights and know how to fight for them". If the supply chain can be cleaned up, maybe natural mica's day will come?
Maybe the appeal of glitter will fade. But it doesn't seem likely, considering that our love of sparkle dates back to the time of Cleopatra. According to a group of Belgian scientists, who in 2014 looked to evolution for clues to explain our attraction to glossy things, it speaks to something innate in us – our attraction to water. Our ancestors in the Palaeolithic period used mica flakes in their cave paintings, while Neanderthal makeup has been discovered that contains flecks of a reflective, black mineral. As Lamanna says: "Put glitter on it, it's better. It shines all day." 
Reference: The Guardian: 
British woman, 28, dies two days after liposuction surgery in Turkey
A British woman who travelled to Turkey to have liposuction surgery has died two days after the operation took place.
Diarra Akua Eunice Brown, 28, had travelled to Istanbul to have the surgery at a clinic in the suburb of Bahcelievler on October 22.
The operation was initially a success, but Brown fell 'suddenly ill' two days after the surgery while having her dressings changed and died within hours.
> >
The doctor who performed the surgery, identified in Turkish media only as S.G.B., has since been arrested and a criminal investigation is underway.
S.G.B has been questioned by police, and told them that Brown suffered no ill effects after the operation and had been discharged the next day.
He said she had returned a day later to have her dressings changed, but her condition quickly deteriorated. 
© Provided by Daily Mail MailOnline logo
The medic added that he had no idea what had caused her sudden illness. The investigation is ongoing.
A post-mortem examination has been carried out, though the results have not yet been made public, and Brown's body has been returned to the UK for burial.
Social media posts from family and friends paid tribute to her, describing her as a 'beautiful soul' and a 'close friend'.
> >
'This must be a dream,' one post said. 'Still can't come to terms with this yet.'
'I miss you angel. I'm devastated you were taken away way before your time,' said another.
> >
A third suggested that Diarra had been a nursery worker, though this has not been confirmed by MailOnline.   
Reference: Chris Pleasance for MailOnline 
Acid found in palm oil linked to cancer spread, study suggests
Researchers have discovered how an acid found in palm oil alters the cancer genome, increasing the likelihood the disease will spread.
The scientists have started developing therapies that interrupt this process and suggest a clinical trial could begin in the next couple of years.
The spread of cancer – metastasis – is the main cause of death in patients with the disease and the vast majority of people with metastatic cancer can only be treated, but not cured, researchers say.
Fatty acids are the building blocks of fat in our body and the food we eat.
Metastasis is promoted by fatty acids in the diet, but it has been unclear how this works and whether all fatty acids contribute to the spread of the disease.
> >
The new study, led by researchers at IRB Barcelona, Spain, found one such fatty acid commonly found in palm oil, called palmitic acid, promoted metastasis in mouth cancers and melanoma skin cancer in mice.
Other fatty acids called oleic acid and linoleic acid – omega-9 and omega-6 fats found in foods such as olive oil and flaxseeds – did not show the same effect.
According to the research, neither of the fatty acids tested increased the risk of developing cancer in the first place.
The research found that when palmitic acid was supplemented into the diet of mice, it not only contributed to metastasis but also exerted long-term effects on the genome.
Even when the palmitic acid had been removed from the diet, cancer cells that had only been exposed to it in the diet for a short period of time remained highly metastatic.
© David Davies A study suggests acid found in palm oil is linked to cancer spread (PA)
Researchers discovered this memory is caused by epigenetic changes to how our genes function..
The changes alter the function of metastatic cancer cells and allow them to form a neural network around the tumour to communicate with cells in their immediate environment and to spread more easily.
By understanding the nature of this communication, the researchers uncovered a way to block it and are now in the process of planning a clinical trial to stop metastasis in different types of cancer.
Professor Salvador Aznar-Benitah, senior group leader at IRB Barcelona and ICREA research professor, and senior author of the paper, said: "I think it is too early to determine which type of diet could be consumed by patients with metastatic cancer that would slow down the metastatic process.
> >
"That said, based on our results one would think that a diet poor in palmitic acid could be effective in slowing down the metastatic process, but much more work is needed to determine this.
"We are not concentrating on this direction of research, instead we are focusing on new potential therapeutic targets that we could inhibit and that could have a real therapeutic benefit for the patient irrespective of their diet."
Dr Helen Rippon, chief executive at Worldwide Cancer Research, said: "This discovery is a huge breakthrough in our understanding of how diet and cancer are linked and, perhaps more importantly, how we can use this knowledge to start new cures for cancer.
"Metastasis is estimated to be responsible for 90% of all cancer deaths – that's around nine million deaths per year globally. 
Reference: By Nina Massey, PA Science Correspondent
A Derm Explains The Link Between COVID & Allergic Reactions To Hair Dye
From the way we socialise to how we work, coronavirus has changed so much about our lives — and it continues to have an impact on our overall health and wellbeing. Anecdotal evidence suggests the stress and anxiety of the pandemic has exacerbated skin issues like acne for many people, while hair loss is also reported to be a symptom by those who have overcome the virus. Even celebrities like Khloe Kardashian and Alyssa Milano have spoken candidly about their experiences.
Fast-forward to this month and it seems there might be another side effect of coronavirus that no one expected: extreme allergic reactions to hair dye. In September the BBC reported that hairdressers had noticed clients suddenly experiencing new sensitivities to hair dye after contracting the virus, with symptoms including painful burns, rashes and peeling skin. One woman claimed that a reaction to a patch test (a method used in salon to determine whether a substance may cause a skin reaction, usually by placing a tiny amount behind the ear) was so severe that it caused a hot, burning sensation and took off layers of her skin.
Unfortunately this doesn't seem to be an isolated incident. Hairdressers around the globe are sharing similar stories, which has prompted scientists to look into the link between coronavirus and hair dye allergies. With salons back in business after a very difficult year and a half, severe allergies and reactions like this are unwelcome news — especially with people booking in for new season hair colour changes in their droves. Are skin reactions anything to worry about? We asked a doctor and a dermatologist to explain what's going on and whether you might need to do anything differently at your next salon appointment.
© Provided by Refinery29
Can COVID cause allergic reactions to hair dye?
"COVID-19 (and any other infections, in fact) puts your body in an inflammatory state," says NHS GP Dr Ahmed El Muntasar. "This means your body is more alert and it makes it easier for your body to react in an exaggerated way to a very small irritant." Dr Ahmed says that this is why you might react to something you might not have reacted to previously, which could explain why people who have been using the same dye for years are suddenly experiencing a reaction.
Usually when it comes to hair dye, Dr Ahmed says that you might have a small reaction without even noticing, for example your skin or scalp getting a little bit red under your hair. It seems coronavirus may heighten things. "With COVID-19, your body is more likely to inflame, swell and get irritated," says Dr Ahmed, "which could explain more of a reaction in a situation like this."
Dr Brian Hibler of Schweiger Dermatology Group in New York says that the association between COVID-19 and the development of new allergic reactions is still being investigated but researchers are looking into how the virus affects our immune system. "In theory, this could have implications on the development of new allergic reactions," he says. "However, we know that individuals may develop contact allergies slowly over time to products they previously used and tolerated many times before (even for years), so the relationship to COVID-19 may be a red herring." Dr Hibler suggests more studies to better track these cases would be helpful to tell if the incidence is truly increased after being vaccinated or exposed to COVID-19. "This will provide stronger evidence for a link between the two."
> >
What does an allergic reaction to hair dye look like?
Dr Hibler explains that the warning signs of allergic contact dermatitis typically occur 24 hours to a few days after exposure to the allergen. "This triggers an itchy, red, sometimes blistering rash," he says. "The rash is generally confined to the area that was exposed to the allergen but in rare cases can become more generalised," spreading to other areas of skin. If the hair dye were to get on your face, neck or shoulders, Dr Hibler warns that you may break out in a rash in each of those locations. "Blistering can also occur with more severe contact dermatitis and facial involvement can result in profound swelling around the eyes, both of which may require treatment with oral steroids," he explains. A consultation with a dermatologist or your GP can help confirm the diagnosis and provide treatment recommendations, says Dr Hibler.
How can you stop your skin from reacting to hair dye?
"Paraphenylenediamine (PPD) is one of the most common allergens found in hair dyes that produces a contact dermatitis," says Dr Hibler. He suggests using a hair dye which is free from PPD. "This can reduce the likelihood of having an allergic reaction," he says. R29 rates Phyto Colour, £13, Christophe Robin Temporary Color Gel, £30, and Josh Wood Permanent Hair Colour.
Regardless of whether you've used a type of hair dye before, Dr Ahmed recommends a patch test (you can do this by depositing a tiny amount of product behind your ear or on the inside of your upper arm) before jumping straight in. Any properly qualified hair colourist will follow this protocol and the same goes for using a box dye, hair depositing masks and shampoos or any other permanent or temporary hair dye at home. If after 48 hours you haven't experienced a reaction, it's safer to proceed. "Even if you have used the product before but haven't used it for a while, you still should do a patch test," says Dr Ahmed. "The way our bodies react can change over time and reactions can be as severe as anaphylaxis, which is life-threatening."
If you've carried out a patch test but your skin is prone to sensitivity, you could apply a light layer of barrier cream (such as Vaseline) to your hairline and other areas of skin which may come in contact with hair dye.
> >
What should you do if your skin has had a reaction to hair dye?
Dr Ahmed says that if you start reacting badly to something topical, get it off your skin as soon as possible. "Secondly, take an antihistamine," he says. "Things like Piriton are brilliant as they physically reduce the reaction and inflammation in your body." After 30 minutes, Dr Ahmed suggests reassessing the situation. "If you feel like you're breathing heavily or your heart rate is different in any way, it's worth going to A&E for a check-up. Things like this can badly affect your breathing and cause swelling in your throat, and you will need to seek urgent medical attention." The good news is that Dr Ahmed says this is pretty rare but it's important not to ignore any symptoms.
What are the best PPD- and ammonia-free hair dyes?
A favourite among colourists and beauty editors, Josh Wood Colour's permanent hair dye is PPD-free, as is hair dye by Phyto and Lazartigue. Ammonia can also be an irritating ingredient for some people but Garnier, Clairol and Schwarzkopf have formulated the below dyes without it. 
Reference: Refinery 29: Jacqueline Kilikita